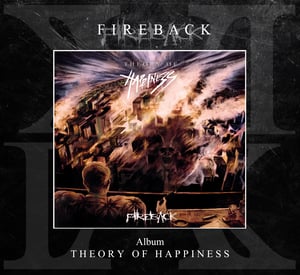 €

10.00
New Fireback album released on May 19, 2017.
Tracklist :
1- Seven deadly sins
2- Desolation
3- Mad in a mad's world
4- Time out
5- In tolerance we trust
6- Oh shitty life
7- Like me
8- F**ck the politic!
9- Hey why not...
10- W(hell)come to my life
SYNOPSIS EN : After their debut EP «Wake Up» in 2012 that got warmly greeted by the medias, Fireback started to write and record their first album in 2015, entitled «Theory Of Happiness». This effort is the result of a deep work and thinking about the world we live in. In order to federate people through the energy of their music, the guys also want to highlight their lyrics and ideas, as the likes of Parkway Drive, Black Bomb A, orAs Blood Runs Black do. The title of the album speaks by itself and sums up what the lyrics are all about. We're living in a world that's dominated by a growing oligarchy which tries – through advertising and media – to force feed us a theory of happiness and teach us how to be «happy». A human existence threatened by the lethal domination of money and power.
SYNOPSIS FR : Après un premier EP "Wake up" sorti en 2012, recevant un accueil enthousiaste de la critique, Fireback s'est attelé en 2015 à la composition et l'enregistrement de son premier album. Intitulé"Theory of Happiness", cet opus est le fruit d'un travail dense et d'une réflexion sur le monde qui nous entoure. Toujours dans le but de mobiliser les foules par l'énergie délivrée par sa musique, le groupe entend bien également faire vivre ses paroles et ses idées. Le titre est évocateur et résume bien l'état d'esprit des textes. Nous vivons dans un monde dominé par une oligarchie grandissante qui nous dicte, par le biais de la publicité et des médias, une théorie du bonheur pour nous apprendre à être « heureux ». Une existence humaine même menacée par la domination destructrice de l'argent et du pouvoir.